Your Health Freedom Conference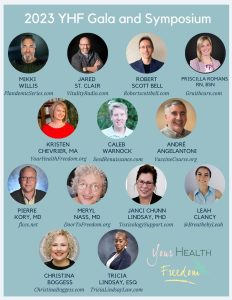 Happy Independence Day!
Without health freedom there is no freedom.
________________
The 2023 Your Health Freedom Awards Gala and Symposium take place October 6 (Gala; Lehi) and October 7 (Symposium; West Jordan)!
Save $30 per Symposium ticket with the Independence Day $50 Special!
Tickets will go up to $80 on July 7!
Buy 10 tickets in one purchase; save an additional $5 per ticket!
Gala tickets are $75 on sale and will go up to $85 on July 7! These tickets are limited and sell out quickly!
Volunteer opportunities are available for Symposium admission discounts. Please email info@yourhealthfreedom.org with your name, cell phone, email address, and city, with the subject line: Volunteer 2023.
_____________________________
Your Health Freedom Awards Gala Details
The Your Health Freedom Awards Gala is for adults only.
Join us for a lovely seated dinner in an intimate setting, with symposium speakers and legislators. We have some special treats lined up for this year, including our first annual awards ceremony for legislators who prioritize health freedom.
Adults only.
Dress semi-formal to formal.
(Tickets for this event are limited and have always sold out. Please get your tickets early!)
______________________________
Your Health Freedom Symposium Details
Nursing babes in arms may attend the Symposium, but must be carried out into the hall if they make noise. Please be respectful of those around you. Thank you!
Speakers include: Dr. Pierre Kory; Dr. Meryl Nass; Dr. Janci Chunn Lindsay; Tricia Lindsay, Esq.; Caleb Warnock; Priscilla Romans; Robert Scott Bell; Jared St. Clair; Andre Angelantoni; Kristen Chevrier; and more speakers you will not want to miss. (We're awaiting final confirmation on a big one!)
Topics include: treatment of "Long Covid"/Covid vaccine injury; patient advocacy; parental rights; health freedom legislation; protecting our food supply; fortifying your immune system; growing a family garden; navigating the "big picture"; homeschooling; deception in VAERS data, and much more!
Join us to learn what you need to know to protect yourself and your family in the days ahead!
_____________________________
SPEAKER HIGHLIGHT

Dr. Pierre Kory, M.P.A., M.D. Founding member of the FLCCC Alliance and co-author of the MATH+ and I-MASK+ Prophylaxis and Treatment Protocols for COVID-19

Pierre Kory is the former Chief of the Critical Care Service and Medical Director of the Trauma and Life Support Center at the University of Wisconsin. He is considered one of the world pioneers in the use of ultrasound by physicians in the diagnosis and treatment of critically ill patients. He helped develop and run the first national courses in Critical Care Ultrasonography in the U.S., and served as a Director of these courses with the American College of Chest Physicians for several years. He is also the senior editor of the most popular textbook in the field titled "Point of Care Ultrasound," a book that is now in its 2nd edition and that has been translated into 7 languages worldwide. He has led over 100 courses nationally and internationally teaching physicians this now-standard skill in his specialty.

Dr. Kory was also one of the pioneers in the United States in the research, development, and teaching of performing therapeutic hypothermia to treat post-cardiac arrest patients. In 2005, his hospital was the first in New York City to begin regularly treating patients with therapeutic hypothermia. He then served as an expert panel member for New York City's Project Hypothermia, a collaborative project between the Fire Department of New York and Emergency Medical Services that created cooling protocols within a network of 44 regional hospitals along with a triage and transport system that directed patients to centers of excellence in hypothermia treatment, of which his hospital was one of the first. Known as a Master Educator,

Dr. Kory has won numerous departmental and divisional teaching awards in every hospital he has worked and has delivered hundreds of courses and invited lectures throughout his career. In collaboration with Dr. Paul Marik, Dr. Kory pioneered the research and treatment of septic shock patients with high doses of intravenous ascorbic acid. His work was the first to identify the critical relationship between the time of initiation of therapy and survival in septic shock patients, an aspect of the therapy that led to understanding all the failed randomized controlled trials that employed delayed therapy.

Dr. Kory has led ICU's in multiple COVID-19 hotspots throughout the pandemic, having led his old ICU in New York City during their initial surge in May for 5 straight weeks, he then travelled to other COVID-19 hotspots to run COVID ICU's in Greenville, South Carolina and Milwaukee, WI during their surges. He has co-authored 5 influential papers on COVID-19 with the most impactful being a paper that was the first to support the diagnosis of early COVID-19 respiratory disease as an organizing pneumonia, thus explaining the critical response of the disease to corticosteroids.

Dr. Kory has just published a new book: The War on Ivermectin
TOPIC HIGHLIGHT

mRNA Vaccination in our Food Supply

We are working on legislation to protect the food supply in Utah. The flyer below explains some of the issues we must consider. Come to the Symposium to find out how you can help!
See you in October!

Kristen Chevrier

Director, Your Health Freedom Utah