Weber County Precinct Training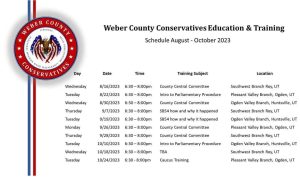 ,
If you are tired of complaining about what's going on, get ready to fight back.
We believe the best way to move our party closer to our conservative principles is to involve the grass roots in the process of redirecting our Party back to its Platform.
As Precinct Chairs and Vice Chairs you are elected by your neighborhood caucus to not only run your caucus meeting but also direct the Executive Committee to make or change our County Party's policies.
Join us on Wednesday, August 16th at the Roy Library for County Central Committee Education and Training. We will include a mock CCC meeting to help you understand the process and gain faith and confidence in your effort to participate.
Everyone is invited!